16 square kilometers of coral reefs make up the insular shelf of Isla Fuerte to provide more than 30 places for scuba diving and with out end possibilities for skin diving.
In addition, platform reefs like BUSHNELL, BUBBLES and BARTOLO which are regarded as the best preserved of the Caribbean continental of Colombian; they are the scenarios for wonderful autonomous dives.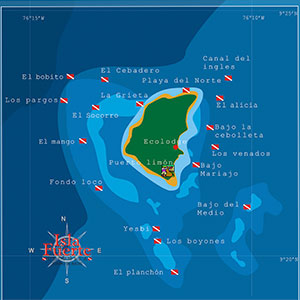 BUSHNELL
Maximum depth for diving: 100 ft. Three square kilometers surface, under crystalline sea, offer us a wide range of diving places; from depth lost cliffs to coral labyrinths with barracuda, horse mackerel, and pompanos schools swimming next to you along the path.
BURBUJAS
Maximum depth for diving: 100 ft. A underwater mud volcano plenty of black coral where we can see the bubbles of gas emanations near the schoolfish that play with it.
CALDAS
Maximum depth for diving: 100 ft. Another platform reef ideal for experienced divers offers us its splendid fauna in deep dives.
EL BOBITO
Depth 70 ft. Exploring the final edge of the insular reef formed by large coral blocks creating a sinuous dive where finding rays and nurse sharks is very common and this place takes its name after those sharks.
YESBI
Depth 40 ft. Calcareous sand patches where shovel winkles and white-sea urchins live, surrounded by soft corals.
LOS BOYONES
Depth 30 ft. It is a reef-like patch where basket sponges are predominant in such a size that they can hold a diver inside.
EL PLANCHON
Depth 30 ft. A 30-meter length shipwreck whose structure has been colonized by a countless organisms and its inside serves as a refuge for fish and sharks.
EL SOCORRO
Depth 20 ft. A superficial dive where a reef made up by mass and soft corals are explored.
BAJO DE LA CEBOLLETA
Depth 20 ft. It is a superficial reef that was once underwater.
BAJO MARIAJO
Depth 30 ft. It is a small coral structure ideal for night diving where a great variety of invertebrates may be seen.
LOS PARGOS
Depth 50 to 80 ft. It is a dive in the western cliff of the reef, to where horse mackerels and carite fish come from the open sea. Schools of timid snappers which might come out from their hiding places give the name to this place.
EL MANGO
Depth 45 ft. A diving in the reef terrace ideal for guiding and compass handling tests.
FONDO LOCO
Depth 37 Ft. It is a place of difficult bearings because it is located in a confluence place of local currents and because it has flat topography where "still lives" of corals and sponges stick out. This condition makes it an ideal place for adrift diving.
EL CEBADERO
Depth 30 to 60 ft. The whole cliff of the reef where the spectacular coral coast are found, in which white sand bottoms we may occasionally find nurse sharks. Divers are followed by the morays, jewfish, and yellow tale fish to get food out of the diver's hands.
PLAYA DEL NORTE
Depth 30 ft. It is an ideal dive to explore the reef platform allowing the smooth current to take you away. If we carefully observe we may see stone fish and the less common nude branches.
LA GRIETA
Depth 20 ft. It is a calcareous sand channel that penetrates through the reef forming cracks where innumerable fish dwell, among them, mid night parrot fish.
CANAL DEL INGLES
Depth 17 to 60 ft. It is a dive through little star (Montastrea) coral channels and calcareous sand bottom, from the crest to the bank of the reef, where we may find large coral rocks full of black coral and sponges.
EL ALICIA
Depth 11 to 30 ft. It is a small crest where ramified elk horn coral are predominant. It is the ideal place for certification and familiarization dives due to the calm place's condition.
LOS VENADOS
Depth 17 a 60 ft. It is the east cliff of the island's platform, where a new reef colony has been developed over fossils of stag horn coral. Rays are often seen in its sands.