Beginning in our lodge you can crossing the island walking or by mountain bicycle, a unforgettable experience to be in touch with the nature.
Tropical dry forest is the predominant ecosystem that alternates with the gracile coconut plantations and mangrove swamps located in the northern and southern ends of the island.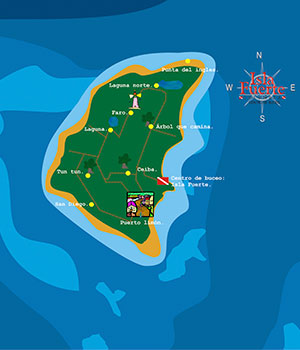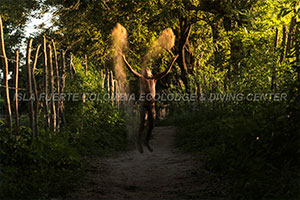 On the trails that run through the island, you will find the ancient trees which are habitats of different species of local and migratory birds, mammals and reptiles will know of the hand of our guides.

THE CEIBA TREE
A Ceiba tree dating from the discovery of America is the monumental symbol of ISLAFUERTE and its spectacular vegetation not found on any other island of the continental Caribbean.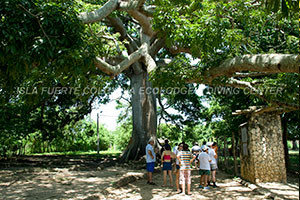 PUERTO LIMON
Puerto Limon, the native urban settlement of the island, offers visitors a warm welcome, letting us know the idiosyncrasies and culture of island communities.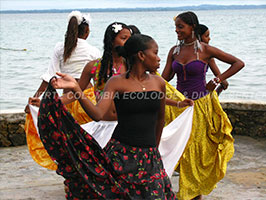 .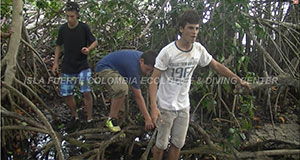 SOUTH MANGROVE
One of the two sites of the mangrove ecosystem, providing shelter in their semi submerged roots, stems and their glasses, has different ecological niches inhabited by mollusks, crustaceans, reptiles and birds of many species.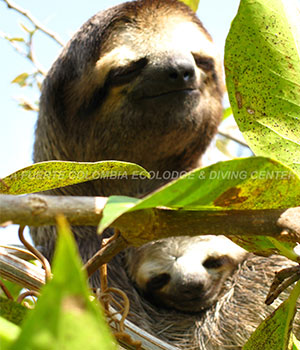 SLOTHS – SAN DIEGO BEACHES
The population of tridactyle sloths is one of the attractions of the island fauna. Respected by locals and tourists playing healthy population feeding on the leaf buds on the tops of some trees.

THE TUN-TUN TREE
A beautiful and big Guacarí when it hug it makes us perceive through the wood the beating of your heart.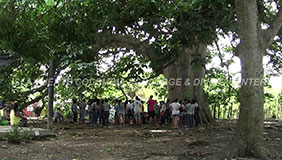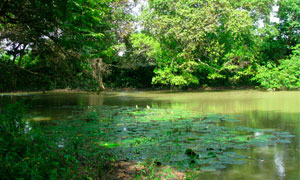 FRESH WATER LAGOON
This little place retained the rainwater and it's one of the few suppliers for the island people.

THE LIGHT HOUSE
A 45 meters high metal tower lighting the way for mariners to avoid they sink in the coral reefs.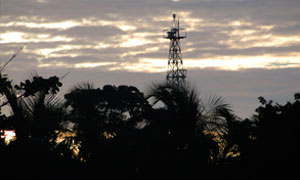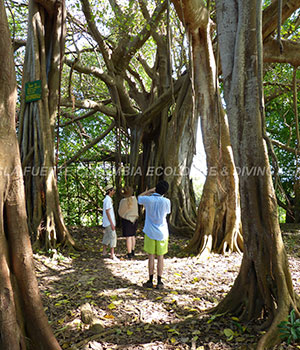 THE WALKING TREE
This spectacular specimen of Ficus benghalensis covers a large area with lianas conquering arising from its branches and at landfall again become main trunks giving the feeling of displacement. It provides a cool microclimate full of birds and small reptiles.

THE MORGAN CAVE
Made by erosion of rain above the calcium carbonate soils that conform all island, this cave, until few years ago large enough to walk inside it, has been called like many other places in the Caribbean where the famous pirate hid his treasures.

.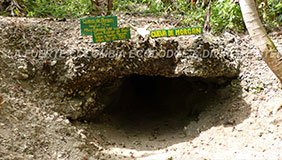 NORTH MANGROVE
This area, along with its internal saltwater lagoon, is declared as a forest reserve on the island. It is inhabited by countless species among which highlight the nesting seabirds and local and migratory. The colonies of frigates, cormorants, boobies and pelicans share this habitat with migratory birds such as ospreys, ducks, kingfishers and crowned pigeons. This does of Isla Fuerte an ideal place for bird watching enthusiasts.

.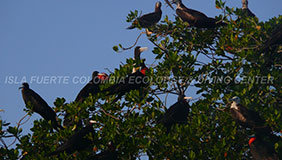 .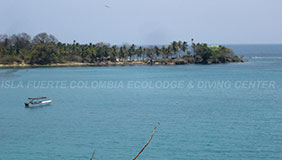 THE CEBOLLETA CAPE
The most prominent end around the perimeter of the island, where there is a small coral sand beach frequented by swimmers and visitors. It is the northern end of the Dead Ensenada in which our Ecolodge is also located.